Created in a blank state of mind, within one breath, like a lightning but sprung from a deep calmness, this calligraphy – or Shodo – is an insightful vision: Hiroshi Mehata digs inside human heart and reveals in his visual art what is there, hidden and invisible.
The dragon-shaped movement translates the energy flow – the one that ancient people felt and called "dragon". Mehata catches the same move through an improvised gesture and reveals the explosive sense of the present moment. "Basically, I do with a blank state. It will raise the sensitivity of all the senses. It looks like experiencing a violent aggression. However, it is very calm mental state", Mehata says.
"Noum" (能夢) is the concept of his artwork. It means "deep fog noise" and it symbolises the Chaos, brought about by our memory, that causes misunderstandings and misrepresentation.
The "Shadow Noum" – the Shodo – is the translation of what we have in our heart, what is invisible but is the basis of each and every interpretation we make of reality.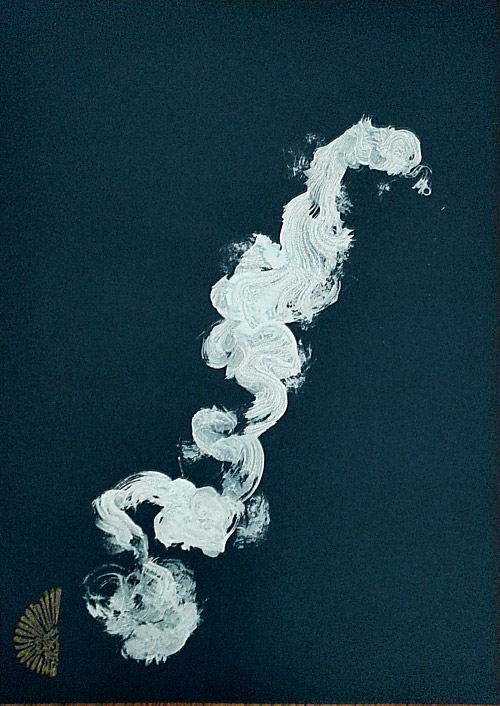 Some call it Kegare※, known also as "Kami" and "Kotodama", that means "unclear" – an unclean soul, the negatives thoughts. For Japanese people, it was thought to be the cause of Natural phenomena and woe or death. But at the same time, it can be a clean state, the positive thoughts, even the Sense of the Universe. Noum is either clean, holy, sacred or unclean, grudge, malice – Aura or Ghost, God or Kegare. The essence of its energy is the same, just like two sides of the same coin. Mehata adds: "There is not Absolute-clean or either Absolute-Unclean in the world. Everything is a state of mind". It is the very movement of our spirit, the "atmosphere" we bring out onto all that we see: an image of our state of mind.
"The pursuit and expression of the essence of people's misunderstandings is my primary creative concern", Hiroshi states. "For me, the essence of misunderstanding is an image (the personal and general misimpression about something people have) which is attached to everything". Reality is not perceived as it is but seen through that "atmosphere" created by an accumulated knowledge stored in our mind and memory. With high speed, this information chains in infinite combinations and forms images: images of self, images of reality, images of everything around us. "Noum" is what symbolizes the chaotic noise born from the chain of these images which is spread like fog in sight. Cultural patterns and beliefs of all kinds, were stored in people's memories long ago, so that this information has been mostly unconscious for long. Hiroshi Mehata, through his art, makes these mechanisms visible that, as martial and conciousness art teacher Peter Ralson would say, make us « become distant from our original sense of being » (The Book of Not Knowing, North Atlantic Book, California, 2010, p.150)
By giving the visual version of what is actually noise or alteration of reality, the viewer is invited to play their own music of what is inside of their unconscious storage area. Mehata puts it this way: "I am intending that people interact with the storages in their own mind by contacting their own emotions through my artwork". Hiroshi Mehata's "Noum" is the visual translation of sound debris elements, the visual facet of a wider artistic expression. The artist attempts to release the synesthesia every individual can experience and to give this inner music a visible expression.
In a way, this Shodo is a music made visual, thus making the unavoidable alteration of the reality our mind creates visible.
1. Shadow Noum Nega (影動能夢・陰) – "Daruma Daishi EEG wave sound conversion", Hiroshi Mehata, 2015, 16.54inch×11.69inch (420mm×297mm).
2. Shadow Noum Nega (影動能夢・陰) – "Reiki, through a hydrothermal vent disappeared to Shijo street at night", Hiroshi Mehata, 2015, 16.54inch×11.69inch (420mm×297mm)