When:
2016-04-06 @ 12:00 – 2016-06-06 @ 20:00
2016-04-06T12:00:00+00:00
2016-06-06T20:00:00+00:00
Where:
Sharjah, United Arab Emirates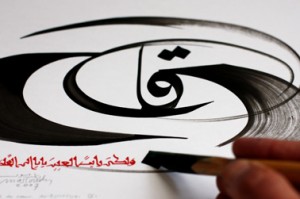 7th Edition of Sharjah Calligraphy Biennial 2016, organized by the Sharjah Collections of The Art, Government of Sharjah, United Arab Emirates, takes place in and around the city as well as in the city of Kalba on the Gulf of Oman and is one of the most remarkable taking place in the region. Exhibition sites are a range of venues including the Sharjah Art Foundation Art Spaces, the Sharjah Art Museum, and the nearby traditional buildings and courtyards of the Arts and Heritage areas. This biennal is a celebration of Arabic calligraphy and its creators, and aims to make the world realise the beauty and authenticity of the Arabic letter. It introduces the features of Islamic civilization as it is a major form of artistic expression in Islamic cultures. Some Iranian artists, like Ramin Shirdel and Alireza Astaneh, are part of the exhibition that displays their calligraphic sculptures. Hassan Massoudy, one of the foremost contemporary Arab artists, puts his calligraphies on display during is this great event, a wonderful chance to be in touch with "a pure soul", "a boundless spirit" according to Wijdan Al-Hashemi.
Hassan Massoudy's art