When:
2017-01-12 @ 15:00 – 00:00
2017-01-12T15:00:00+00:00
2017-01-12T00:00:00+00:00
Where:
The Rusta
Arambol
Goa 403519
India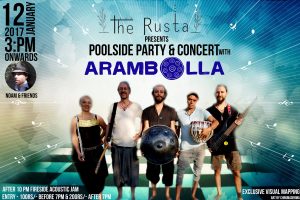 "Arambolla" is a collaboration between Davide Swarup, a world star and the pioneer of the hang drum since 2005 and Erich Lehna, a German guitarist, with flute player Fatima Gozlan, percutionnist Israël Diaz and bassist Nahdi Lazar. Their music is an acoustic fusion style. These five talented musicians, highly inspired by Indian culture, blend jazz, improvisation, rhythms and melodies of the Indian music, to enhance a sense of Universal harmony and celebrates the beauty of life.