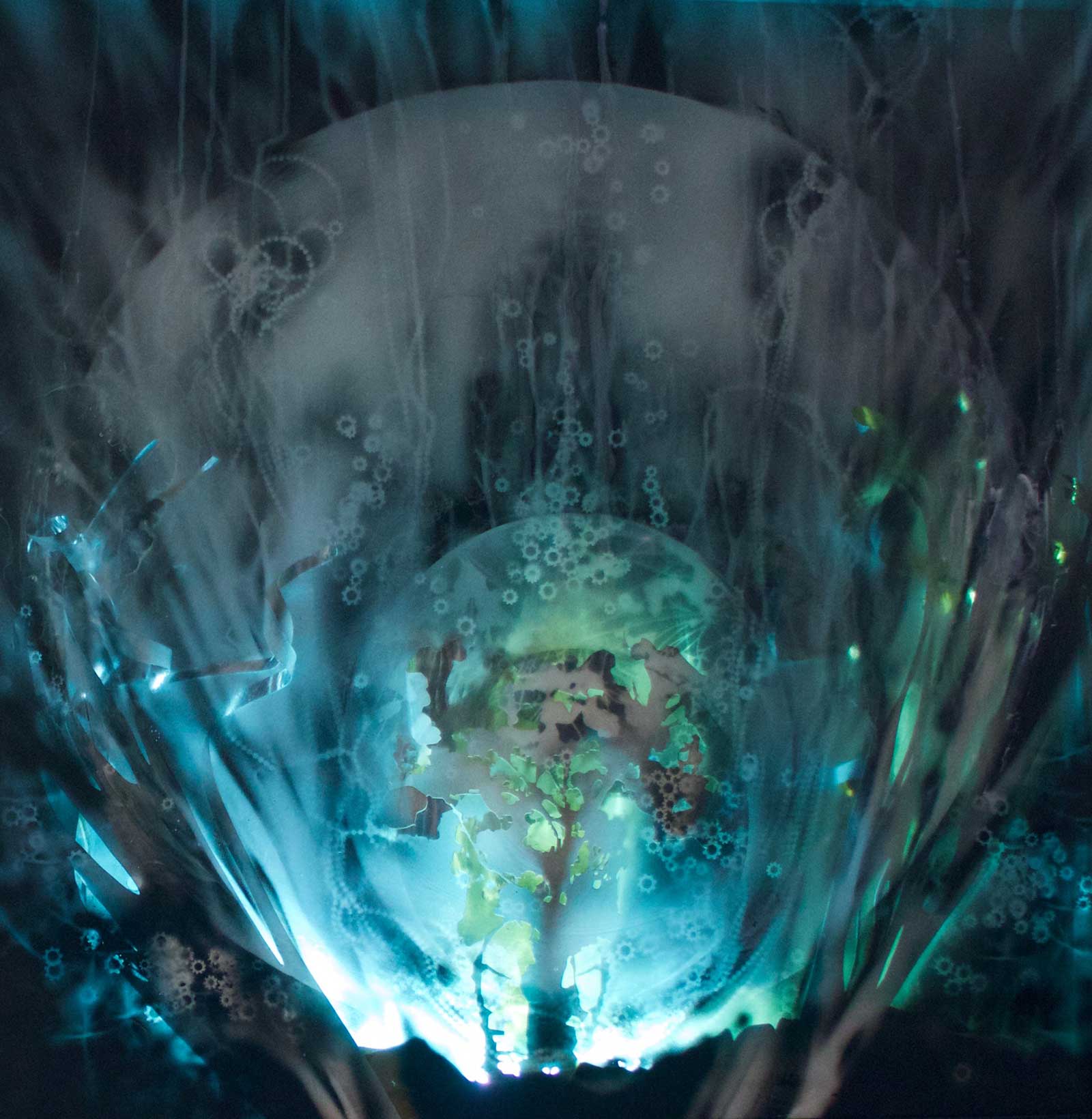 A pearl, born at the bottom of an ocean, diffuses its light around her, giving rise to translucent and lightweight algae and water bubbles. It seems to be protected by an aura 1like a precious jewel, delicately deposited by an invisible and powerful hand.
With this "Pearl of the depths II", Carolline Auclair continues her research around the energy footprint of plants – like in "Do you hear me little sister?". The technique used here consists of a light box, painted with acrylic on plexiglass and illuminated by light-emitting diode (LED) lights with color modulation. A digital cutting assembly creates a light diffraction. The spectator can interact with a joystick and thus have the possibility to choose his favorite moment or simply to follow the modulation of the colors. Therefore, the artist gives reality to the aura of plants in the form of luminous halos.
For this work, Caroline used various objects as stencil, such as a recycled ceiling lamp to make the biggest circle, dried stems of tiger lily, star-shaped nuts. "Light passes through matter changing from blue to green to red and white", the artist explains. The work thus created becomes, in each tone, a new image recalling the importance I attach to the precious faculty of wonder.
The dominant form here is the circle. The circle occupies a very important place in her work. For Carolline, "this archetypal form represents the idea of ​​perfection. Indeed, the circle has neither beginning nor end. The idea of ​​the divine exists thanks to it. The circle is an infinite curve, an infinite sweetness, just like the belly of a woman, it protects, it creates. This nascent point extends and with it that of a heaven of benevolence." The digital cutting assembly on mirrorboard creates a luminous diffraction that represents an elder stem. Its small heart-shaped leaves, which for Carolline symbolize sharing and benevolence, contribute greatly to the delicacy and the enveloping sweetness of the whole.
The strength of the work is also based on its symbolic origin, which is revealed by its title, "Pearl of the Deep":
"This title was born from my experience with suffering and my quest for a meaning to Life, Carolline states. When I knew how pearls were born, I immediately made an analogy with suffering. That's why I love pearls so much. Indeed, when a grain of sand penetrates a shell, it irritates the marine animal. So to protect themselves, the oyster surrounds the grain with mother-of-pearl. Several layers of mother-of-pearl are deposited on the grain, one after the other. The small ball of mother-of-pearl grows, to become a magnificent pearl. According to me, the irritation made by the grain of sand compares to our sufferings and the marble of mother-of-pearl to what we make of it. 'Pearl of the depths II' is observed in the abyssal blackness of the sea or in the sky of the cosmos of the star infinite. It is for me the power and beauty of our infinite possibilities. The beginning of a multitude of jewels in the casket of a harmonious universe or perhaps simply a space of positive energy."
"Pearl from the depth II", Mix media, 30 x30/ 76×76 cm,  2016

Meet Carolline Auclair