'Ethereal Journey; On the Silk Road' is a journey into time and space. It also traces the inner journey of the artist Alain Guillon who paints in a deep state of inspiration and contemplation.
Sensuality and delicacy of the pink silk papers painted with blue that evoke embroidered, refined and precious fabrics from the far east. Poetry of white and delicate petals that a light wind carries on travel at the end of the spring season. The green and fresh attributes of a Persian garden still asleep in the shade, a sweet fragrance of mint. This painting represents also the infinite in movement: it is an immense steppe travelled on a galloping horse, open to space and freedom, it is a trip in the distant countries of an ancestral China inhabited with Legends and myths.
"In the word 'travel', Alain Guillon explains, I am not thinking of moving from one place to another, from one country to another, from one continent to another, by moving physically. My pictures are related to the spiritual, as the journey is too; the spiritual or esoteric journey through meditation, emotion, vision, intuition, in connection with the ethereal body that can move without the physical body and then reintegrate it. It is also the journey of life, of past lives. I have the profound feeling that Time is much different and much more than the mathematical division we have made of it, although very practical in everyday life to identify and travel in the world, but which limits the vision that the human being has made of Life."
Thus 'Ethereal Journey; On the Silk Road' is a journey into time and space. It also traces the inner journey of the artist who paints in a deep state of inspiration and contemplation. Thus, contrary to the usual creative process used by this artist, which consists in letting the emotions emerge from a music from which the painting takes shape, the 'ethereal journeys' this painting belongs to reverses the process of creation: the starting point rests entirely on a deep connection with interiority: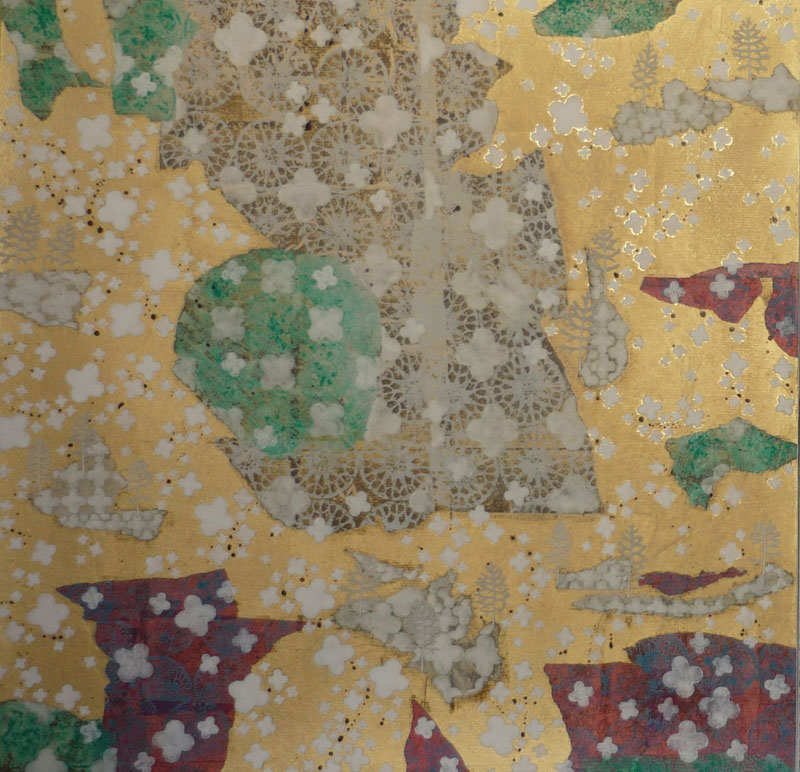 "I try to listen to my own inner song, says Alain Guillon. This inner song is different each time according to my energy of the moment and to which this energy is connected or bound with – that invisible part of life that defines everything that I do not see and do not know. I get into meditation to listen to what vibrates in me. I listen to my inner silence until I feel vibrations, sensations of rhythm, and until I perceive colors. All these sensations will guide my choices of colors, materials, papers, composition and graphic rhythm to create the painting. I do not really know where I am going, I let myself be guided, like a sort of "emotional visionary", who does not seek to think mentally, but to listen emotionally and fully to his inner vibrations. I experience sensations that lead me to a kind of inner emotional globality, and that is enough for me to start my work. I discover its evolution as it is being built before my eyes.
Throughout the building of this work, I always try to stay in balance and harmony between my sensations and what I see, emerging as the construction of the painting progresses. I know which color to use, what kind of paper to choose; will there be transparency or opacity or both, will there be plants or not… The qualities and the specific characteristics of the materials that I use in my painting resonate with the emotions I felt. There is this constant "balancing act" between the emotional sensation and the visual aspect of the painting that takes place before my eyes. One carries me smoothly to the other and vice versa. Everything goes through emotion, tactile and visual."
When the picture seems to be in perfect harmony with the sensations of mediation, when the inner emotions and the visual of the painting echo each other faultlessly, it is a sign that the picture is finished. Alain adds: "If I feel internally that this balance is not reached, then I take the time to observe my painting, to feel and understand what I can improve further to achieve this balance. And what surprises me a little every time is that the sensations of my meditation do not leave me until the painting is finished, even if it takes two months and even if I am making several ones at the same time from different meditations. The emotions remain in me until the painting is completed. Then, they disappear gradually, until over and there remains only the painting to testify."
The chosen materials relate to the same quest for inner equilibrium, which is expressed through the interplay with light. The quality of marble reconstituted from powder varies according to the dosage, from a very white marble to a transparent or translucent marble. The golden copper sheet takes light and makes the marble vibrate differently, giving depth to the work. Thus, it is the vibration of materials between them and under the effect of light that gives life to the painting and makes it evolve under our gaze according to the angle from which it is seen. It is the same search with silk papers or Japanese papers placed on the golden copper sheet.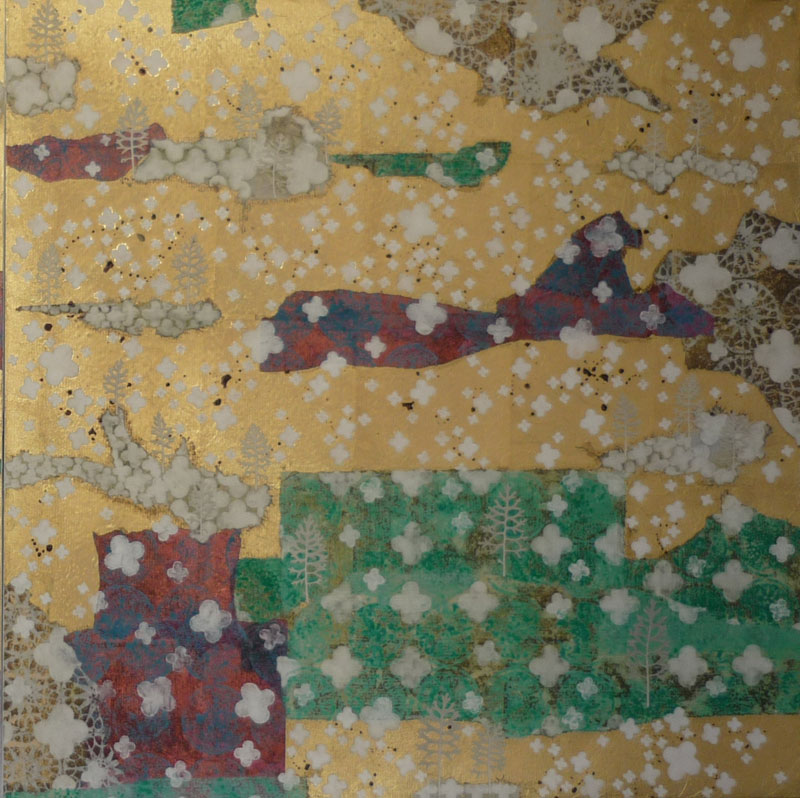 "All the materials I use in my paintings have to vibrate and react to light to create subtle and delicate games of transparency, superimposition and contrast, which will give the painting its full visual and graphic strength as well as its depth", Alain Guillon explains.
If 'The Silk Road' is a journey, then it is an interior journey to light, a light conquered within and expressed externally through the balance of materials and composition. What is this light? The spectator will be able to see, feel and touch it when faced with a painting by Alain Guillon. He will experience balance and inner contemplation, traveling in turn the path accomplished by the artist himself:
"When I paint, I know, I feel that I am connected to something else that does not depend on where I am. Part of me, on an energetic level, seems to travel to another energy to exchange, share or simply give or receive. Something happens on another plane that is not material, and with these impressions comes the deep feeling that Time does not exist, at least as we define it. Time is linked with space; It is infinite, timeless, eternal."
'The Silk Road' takes us to a journey of the senses and, with its secrets and mysteries, to a journey of the Soul.
Ethereal travel; On the Silk Road (2013) – 2 x 80cm x 80cm – golden copper sheets, pink or neutral tissue paper, Japanese papers made of nonwoven fibers or sails, reconstituted marble powder, dried vegetables (immortal leaves), colored paint and pigments (used for printing Indian stamps), Varnish.
Meet Alain Guillon