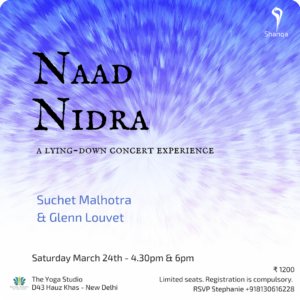 Naad Nidra is back! Give a treat to your body, mind & soul with this unique experience of listening to music while lying-down. Close your eyes and tune in to the sound. An inner experience follows and opens up a radically different way to listen and relax.
We are delighted to collaborate with Seema Sondhi and the Yoga Studio for this new session.
To get to know almost everything about this concert experience, listen to Suchet Malhotra who recently presented 'Naad Nidra' to Sarthak on Ishq 104.8 FM.
Glenn Louvet is a sitarist, percussionist and throat singer. His love for Indian music brought him to New Delhi, where he teaches both music and Yoga for over a decade. Suchet Malhotra is a multi-percussionist and music producer with a vast library of percussion and wind, ambient sounds, and native instruments. Together, the two musicians started performing in 2004, debuting at the Embassy of France's World Music Day celebrations at the Garden of Five Senses. Since then, they have performed at concert spaces and live stages all over India in duo and as members of the percussion ensemble Temple of Drum. Notable appearances include the Delhi & German Government's Yamuna-Elbe initiative by the banks of the river Yamuna, a performance on "Lost Traditions" by Katha at the India Habitat Centre and at the Peace One Day Festival in New Delhi.
Both bring sensitivity, a wide repertoire and a love for harmony and silence; together then, their music becomes compelling, engaging and effortlessly listenable. There is depth, but also humour. There is virtuosity, but also space. With over a decade of playing together, the two friends blend their music together like it was just meant to be. Enjoy the now while taking in this concert lying down so you can relax completely, and immerse yourself in the music and the experience.